Twitter
How to Reset Twitter Password Without Email or Phone Number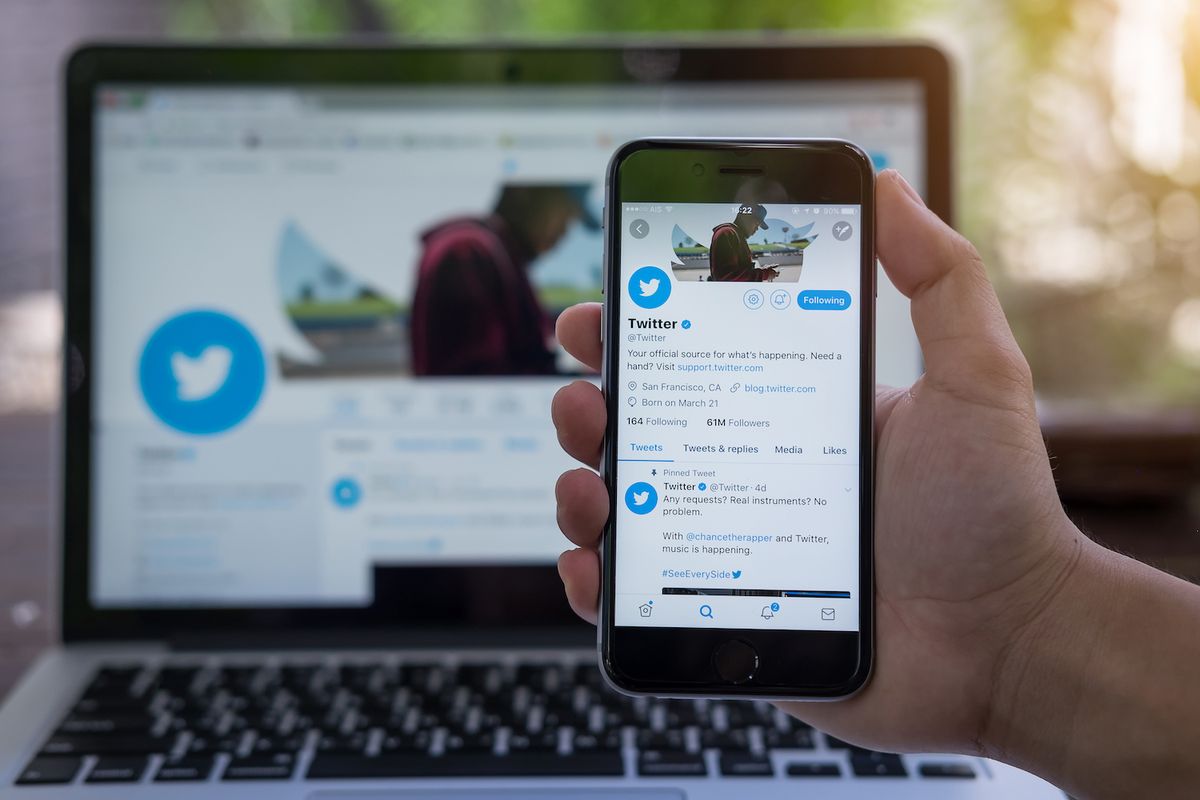 Do you find yourself in a tricky situation where you do not recall your Twitter password and also do not have access to your registered information?
You need not worry, as, in this article, you will find various methods to recover your account and regain access to it.
If you are new to the website, let's understand a little more about Twitter first.
Twitter is one of the most popular social media platforms in the market.
It is widely used for communicating with friends and family via the chat feature.
Anything users post on Twitter is called a "Tweet," and a post with multiple "tweets" is called a "Thread."
Users tweet about ongoing events around the globe, and when a particular term is used across numerous users, it is showcased on the trending page.
This helps create awareness and bring light to current events across all countries.
Trending pages are classified into two main categories: 'Trending in the country of residence" and 'Global Trends.'
Resetting your Twitter password
Since almost all social media platforms provide the feature to reset passwords, the process of resetting a new password is fairly simple.
The icon to do so is generally labeled as "Forgot Password."
The same applies to Twitter.
Click on "Forgot Password" on the login screen.
You will then be given a list of instructions to follow.
Following these will help you recover your account.
This is how you reset your password directly from the login page.
But what if you do not have access to your email address or phone number?
This will not be straightforward as there is no way for Twitter to verify the user details.
There is a way to work around this.
Follow the steps in this article, and you will be able to understand the process of how you can reset your password and regain your Twitter account.
Resetting Twitter password without email or phone number
Before you begin with these steps, make sure to double-check if you have the registered email address or phone number in use.
If you do, you can simply click on 'Forgot Password' and reset your password.
If you are not using either of them, Twitter Support is your best choice.
Besides password reset issues, you can find and ask questions on various other queries you might have as well.
To get started, you are required to register a complaint/file an issue in the support center portal.
The response time is usually high due to the high volumes of user requests.
Please make sure to wait a couple of days to get a response from them.
Once they answer your request, you will be contacted by a member of the support team, who will then guide you through.
But if it takes longer than usual and you still have not received a response, it is best to file another complaint.
Refrain from constantly sending in complaints via the support portal, as the frequent request will eventually be marked as spam.
Let us get into all the steps that are to be followed to get help when you do not have the registered email address and phone number to reset your Twitter password.
Step #1: Filing a report at the Twitter support center/portal
Head over to the Twitter Support Center from your browser.
You can directly search this on Google or refer to the website link directly.
You will then see multiple options with queries users frequently face.
Do not open any of those options as they lead to pages with help articles.
On the very same page, locate the term "File a report."
Once you come across this option, click it (this is usually present at the very bottom of the support center page.)
In a way, it is hidden from its users, and one can assume it is simply because of the vast user base of Twitter.
The "file a report" option is under the "Contact Us" tab.
After clicking on it, the process of account recovery begins.
The next steps contain detailed information on directions on how to go about, with a form that will be presented next.
Step #2: Filling out the report form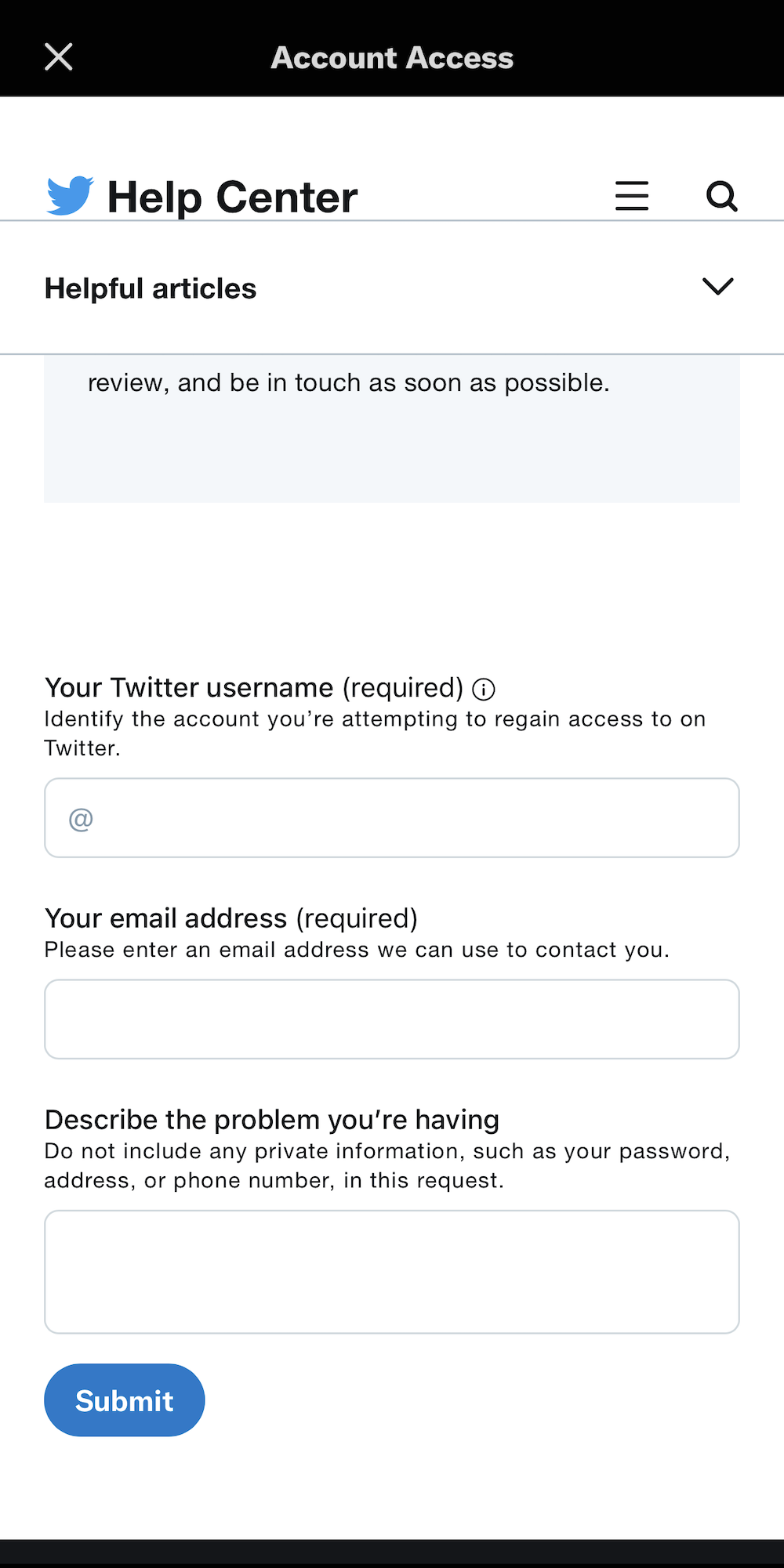 Once you select the option to file a report, you will notice you are now presented with some more categories to choose from.
There are different options present, and it is of utmost importance to choose the right sub-categories.
Choosing the right option here helps Twitter guide you better, as it will understand your issue in a better way.
As password recovery is a login issue, go ahead and choose "I need login and account support."
This, among other options, fits the issue best.
Under this, there will be more than seven categories that will appear.
These seven sub-categories will include options concerning account security, account information, account reactivation, etc.
It also includes an option for password recovery.
You should now select the option "I can't log in to my account."
Choosing these two categories for login support will successfully bring you to the next steps.
The next few pages will request some general user data to help regain access to your account.
Step #3: Entering General User Data
After choosing the categories as outlined in step number two, you will be asked to fill out some details to be able to submit your report to Twitter.
The very first step here is to enter your Twitter username.
It will most likely be the first field you must fill out. Enter your Twitter username without the "@" sign.
Make sure the spelling is accurate, and then click the search icon.
If unsure of your username, try to find your profile from someone you follow on Twitter.
This way, you are sure of your username eliminating delay in the next step.

Step #4: Contacting the Twitter Support Team
After you enter your username and click on the search button, Twitter will look through the database and find your Twitter profile.
When the search is complete, you will see a pop-up message stating that your account with the username "@xyz" has been found.
If you read this closely, there will be a link that will take you to a page of instructions given by Twitter in the form of a help article.
Do not select the help page link and choose the option of "Still need help."
Users complained that the process of contacting the Twitter support team is highly complicated and time-consuming.
The website interface for the support page is also not built to be clear and to the point.
If you follow all the steps carefully and select the options mentioned in this article, you will find a solution without wasting time.
Step #4: Entering final details and submitting the report

Once you select "Still need help," the support page will take you to a contact form.
The first detail required to be filled out here is your email address.
It does not have to be the one associated with your account.
Twitter asks for a valid and active email address to contact you with further instructions and potential solutions.
The next thing to fill out is the issue you are facing.
In this case, it is losing access to your Twitter account and not being to reset your password.
Make sure to mention that you no longer use the registered email address and phone number, which prevents you from resetting the password directly.
After filling out the description of your issue, click on the continue icon.
Right after this, you will be presented with a CAPTCHA.
Complete the CAPTCHA and proceed to "Verify."
The last thing to do here is click on the "Submit" button.
The report you have filled here will be reviewed by a member of the Twitter support team.
After going through the details, they will get back to you with the next steps and instructions.
Please also make sure to regularly check your spam folder as a reply from the support team might slide in there.
This is how you can reset your password without having your old email address and phone number.

Changing the password on the Twitter App
The rules and steps are almost identical to changing your password on the Twitter app and changing it on the website.
Simply click on the "Forgot Password" icon on the login screen and proceed to enter the general details associated with your account.
You can opt to receive the verification link via the email address or phone number you registered when creating the account.
You can use the link you receive next to change your password.
Final Thoughts

If you have no access to the registered contact details, the entire process of resetting your password is indeed hectic.
It takes time and requires patience, but it is possible.
Once you have gained access to your account and have a new password set, make sure to store it someplace safe.
Keeping track of all your passwords will ensure internet safety and a sense of security in accessing all your accounts.