Snapchat
How to Reset Your Snapchat Password Without Email or Phone Number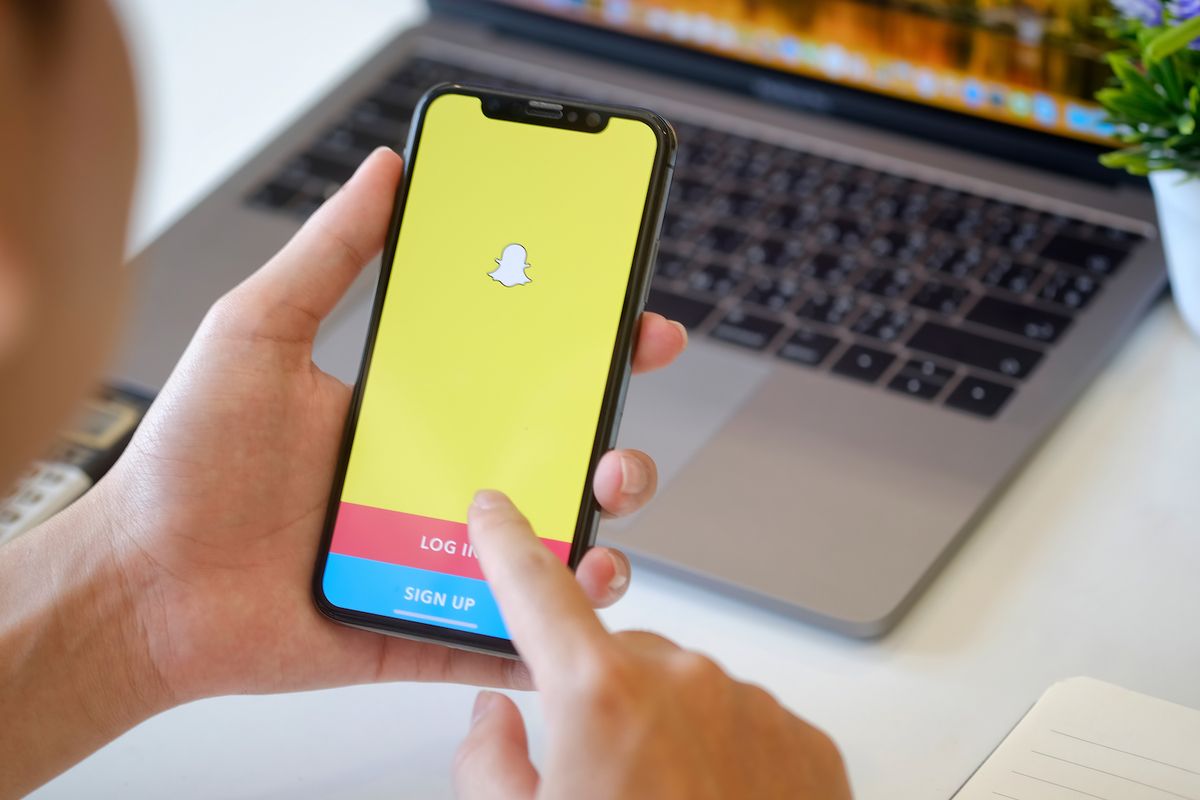 Oops! Did you just forget your Snapchat password? Are you here to find ways to reset it?
If so, you have reached the right place!
Here, you will find all the various ways to reset your Snapchat password.
You can even learn about methods that do not require your email or phone number, which is currently in use.
Losing passwords is absolutely no big deal, even to those who are new to the social media world.
The technology allows you to work around such mishaps and retrieve all the crucial information stored in your account.
Almost every website, application, or social media account has an option to retrieve old accounts by clicking "Forgot Password."
The only time you won't use any particular account again will be when the particular organization stops or deactivates your account for violating various norms.
The easiest method to reset your Snapchat password would be to use your registered email or phone number. (Such a process will be discussed in this article further!)
However, it would be quite difficult if you do not have access to either one of these, but it is not impossible.
Snapchat provides ways to help users retrieve their accounts and update information.
Let us go through the various steps and understand what needs to be done!
Resetting Snapchat password without phone number and email address
Snapchat, which has been around for years now, has developed groundbreaking technologies and has a number of teams to support the numerous ongoing functions.
You are not alone in trying to figure out this issue.
It probably has happened a number of times, so there are ways to work around it.
By closely and calmly following the below-mentioned steps, you will find out solutions to regain access to your Snapchat account.
The very first step will be to open Snapchat on your browser.
It is crucial to open the website on a browser and not through a mobile application to make it work.
To open the website on your mobile, you can use any browser you have on your phone.
Step #1: Go to the support page and click "Contact Us"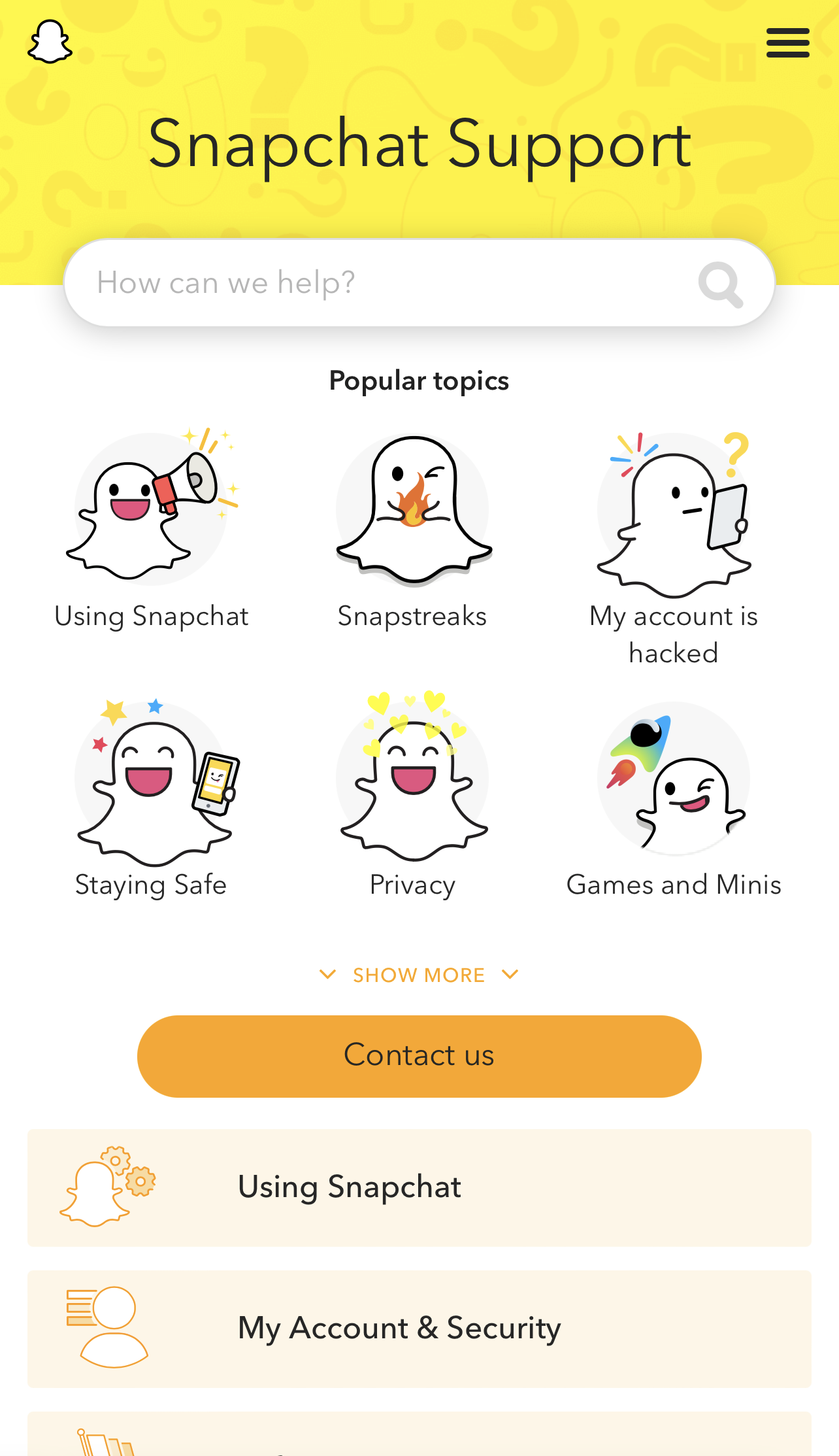 Next, go to the support section. The direct link to which is present here as well. An icon titled 'CONTACT US' will be seen near the bottom of the page. Click on the icon.
Step #2: Select "I can't access my account" and "I forgot password"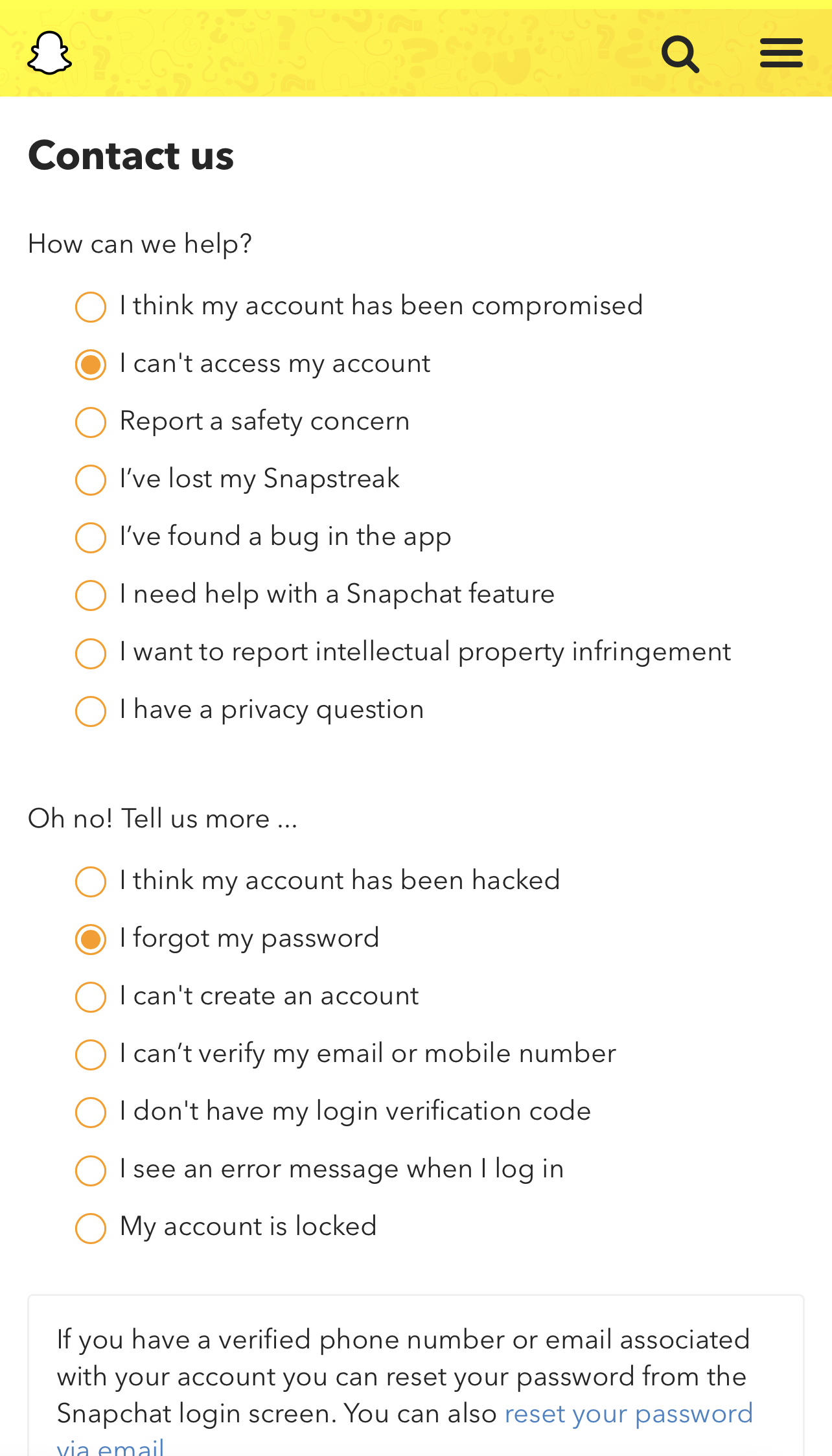 Once done with step number 1, you will be presented with a list of issues they can help you with.
Here, you must choose 'I can't access my account,' which most likely will be the first option available on the list.
Then click the section "Tell us more," which will pop up after selecting an option from the first list.
Select "I Forgot my Password."
Choosing 'MI can't access my account' directs your query regarding resetting and forgotten passwords, login issues, account security, and more.

Step #3: Click "Yes" to complete the form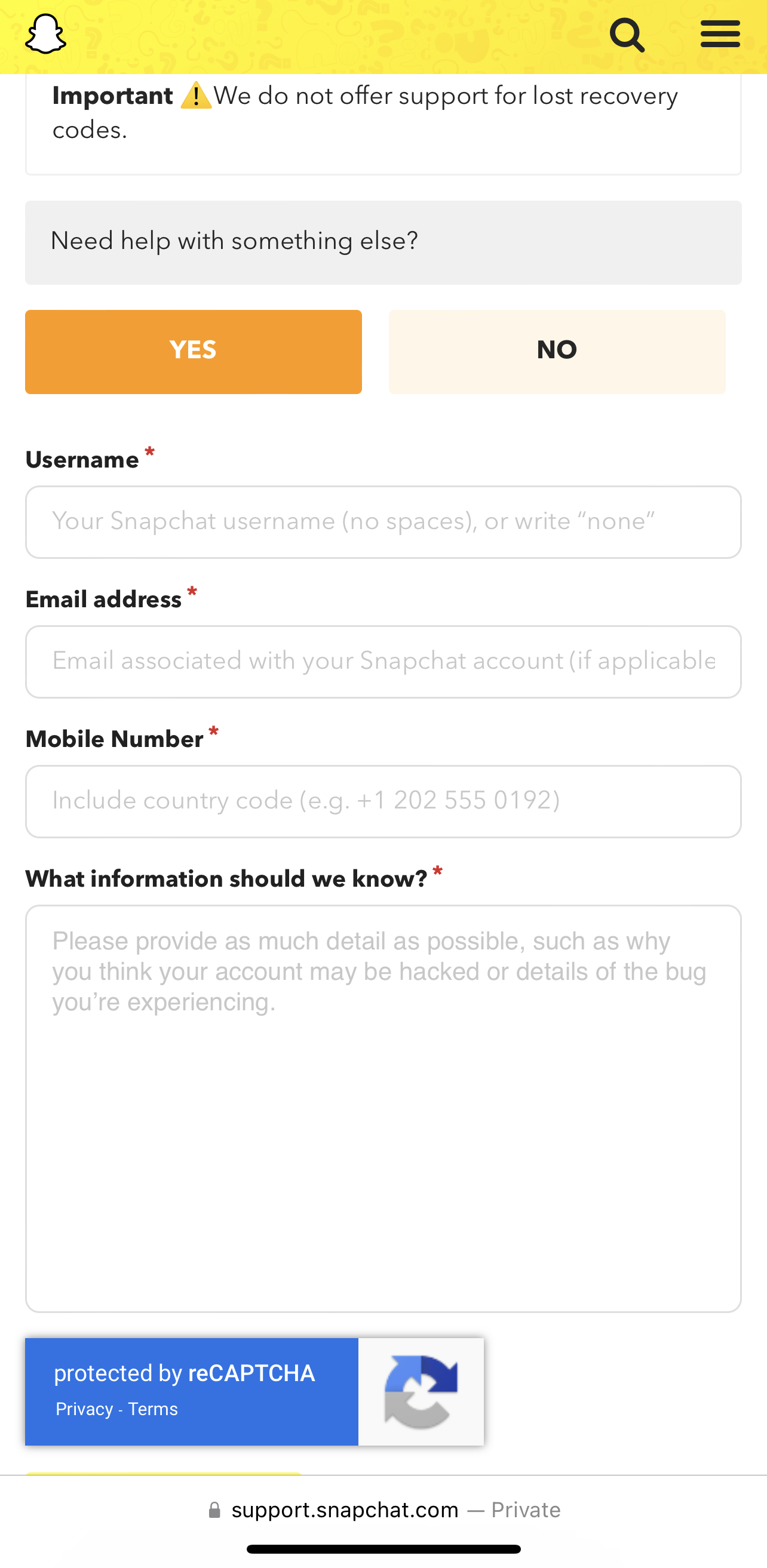 After successfully selecting the option and following the steps mentioned in #1 and #2, you will have access to a form.
First, click "YES" on top of the screen and fill out the form.
Start by filling out your username; make sure it is accurate.
You can also double-check with a fellow Snapchat user.
Next in line is your email address. (Note: Be sure to enter the email address associated with your Snapchat account, as it is considered a step for account verification.)
And the third field requires your phone number.
Enter your country code followed by your phone number.
You can always look up your calling country code on Google to make sure.
The last field required in this form is a question.
It asks, "What information should we know?" Here, you must ensure to describe your current situation with regard to your account to them.
Specify if you have lost access to both the resetting tools (i.e., your registered email address and phone number).
Once done with the entire form, simply complete the provided CAPTCHA and hit submit.
The Snapchat team then verifies your details and goes through your submission.
They usually get back to the user in 2-3 business days.
The next information they provide will be potential steps to be carried out.
Resetting your Snapchat password

Resetting your Snapchat password when you have access to your registered email address and phone number is a straightforward process.
It can be done in five minutes and will instantly give you access to your account.
You can then update your new information on your profile as well.
You first have to open Snapchat.
It is not required to be using a browser.
It can be easily done using the installed mobile application.
On the login screen, click on 'Forgot Password.'
You can then opt to use your email address or your phone number.
The steps for both are identical.
Let us suppose you choose to verify your Snapchat account via the phone number, you will instantly receive a verification code.
Enter this code on the blanks on the screen.
You will then be asked to set a new password.
Confirm the password by entering it twice.
You will then be taken to the Login screen once again.
Enter your username and password, and there you have access to your Snapchat account once again!

Steps to follow when you forget registered information with your Snapchat account

If you ever find yourself in a situation where you do not have access to your Snapchat email address, nor can you recall the password, the safest route would be to take contacting the Snapchat support team.
The support team feature allows you to provide them with additional information on your query, as they have better and more accurate solutions to them.
You can get in touch with the Snapchat support team by clicking on "Contact Us" on the support page.
Select options describing your issue and fill out the form.
The team responds to queries in two to three business days.

Reviving a Snapchat account without access to the registered mobile number

As discussed earlier, one of the ways to get a verification code from Snapchat is via mobile number.
If you do not have the same number or if you have forgotten your password, you can opt for recovery via email.
The code will be sent to the email address associated with your account, and you can regain access to your Snapchat account.
In this case, you can follow the support page route.
You can again enter and describe all the issues you are facing and wait for the support team to get back to you.
They will most probably provide an in-depth solution to your problem and guide you every step of the way after understanding the issue.
As mentioned at the very being of this article, the social media giants have now been around for years.
They have encountered these issues numerous times, and with the growth of technology, you can now develop solutions for every minute of difficulty faced by users around the globe.
Anyone facing the issue of losing social media platform passwords like Snapchat should never be an issue.
Most likely, you will be able to recover all your data and put your account to use as before.
Going over all the steps mentioned above and calmly executing them will most definitely help you out.
If you cannot figure out the solution in a few cases, the conclusion might provide a way out.
It might not be the most convenient or hopeful option, but it has to be the only practical choice if nothing works.
Final Thoughts

Regain access to your Snapchat account can sometimes be a hassle, as one's personal information, including email addresses and phone numbers, can vary over time.
It doesn't always happen that someone has the same contact details over a span of ten years, and it is normal to change devices and update personal contact information.
So it's crucial to always update one's personal email address and phone number.